Houston Family Photographer – Deborah and Jules
Jonathan
If you don't mind me asking, what do you have on the walls of your home?  Mounted posters of vintage french food or liquor ads from Z-Gallery?  Various Tchotchke's from far-flung corners of the world? Framed reproductions of famous paintings?  Even better, I'm sure some have real oil paintings? The point is, you probably have some adequately-sized art work on your wall of varying cost and quality.  What matters to you is what this artwork says about who you are and, more importantly, the memories and happy thoughts these pieces bring to mind whenever you see them. Just by looking at the recent testimonials, its clear that there is a deep joy that comes over you when your adequately sized wall portrait is delivered. The experience is completely different from receiving a package of 8x10's.
The images below were produced in ProSelect. It is a software application that allows Houston Family Photographers to show images at actual size as they will appear on the wall. From across the room, the viewer can barely see any detail in the photography of the 8x10. Contrast that with the 24x36 (The Bedroom) then ultimately the 40x60 (The Sofa) in which you can clearly see Deborah and Jules' eyes. The emotional impact of family portraits that truly fit your space is breath taking.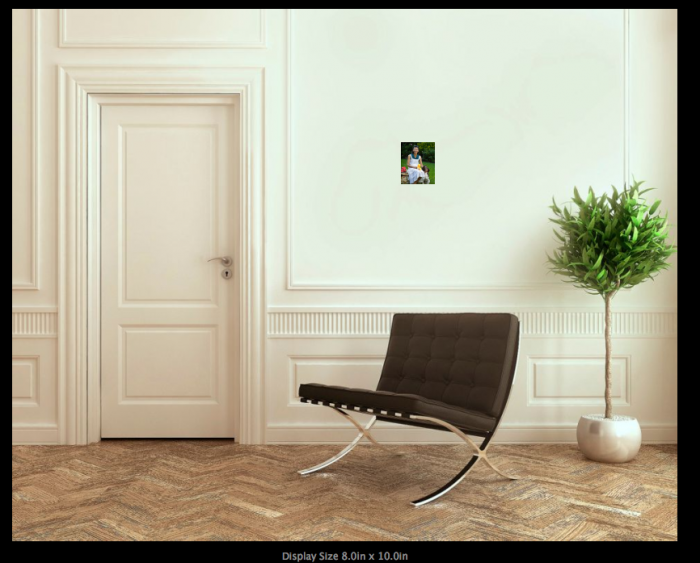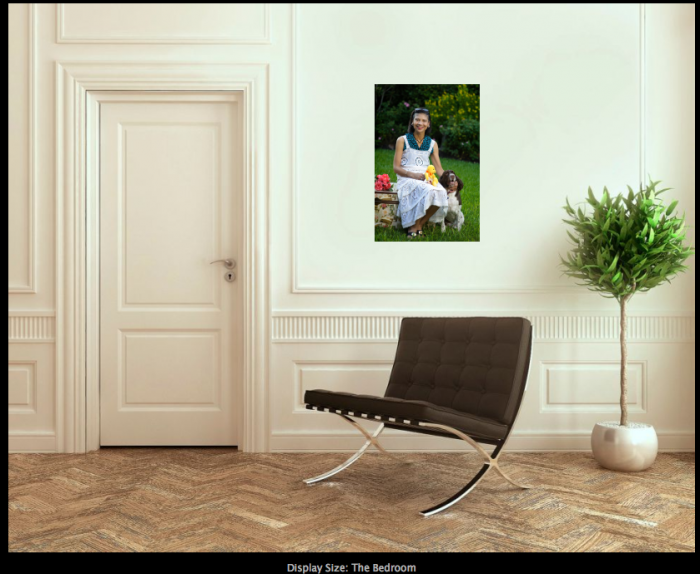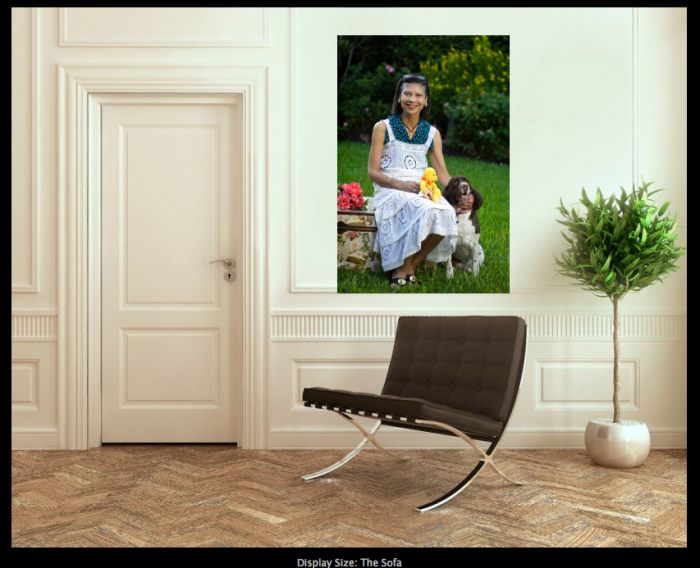 As I prepared for this posts over the weekend, I walked past Deborah's Houston family photograph no less that 20 times. Every single time it caught my eye. Not just because of the size of the print but because, I can see the emotion in her eyes and relate to where we were the day we created it. It is understandable that it can be hard to know how important adequately sized portraiture is since it the access to such artwork has been restricted to the ultra rich (heads of state and monarchs). The advent of computers and sharing of information on the internet has made access to timeless wall portraits much more affordable. Today, I plan to make my 40x60 timeless fine art photographs even more accessible. We are going to start Club 40x60. Nothing would make me happier than to see the look on your face when I drive to drop off your legacy on 40x60 canvas. I promise you will be waiting by the door for my car to pull around the corner. The first 3 clients to invest in a 40x60 canvas will receive 50% off through the end of the year (2011). A 50% discount + my 100% satisfaction guarantee is a double victory for you. Please contact me today to chat about your next fine art portrait session.
Curious what your neighbor's have to say about Jonathan?! For raving testimonials (click here)!
If you are interested in joining Club 40x60, Contact me (click here) to book your session today!
For great links, photography specials and daily inspiration,  Join me on Facebook or Follow me on Twitter