Painted Churches of Schulenburg, Texas
Jonathan
Up today is a mini post featuring some special images I created recently. Last weekend I took Saturday at drove out to Schulenburg, Texas. One of the things that drew me out of the city were these "Painted Churches" that Kyle,  owner of Sugar Cycles was telling me about. Originally settled by Czech and German inhabitants, their cultural footprint is still clearly evident everywhere you look. The painted churches, that have just recently been restored, are top national historic landmarks for good reason. If you look closely, you can see the wood paneling under the highly detailed ornate paintings. After opening the door to each chapel I was hit with bursts of color and beauty. When I spent time in Italy, I remember the same feel from cathedrals I visited there. While in Milan and Florence, the decor is made from imported Marble, the Schulenburg churches decided to do "more with less" and hand painted the wood. After seeing the images I think you will agree that they did a fine job.
Knowing that I was going to be photographing churches with the Sun high in the sky, I knew this would be a great time to work on my high dynamic range (HDR) art work. While this is something new for my blog, I think pushing the boundaries in my work is a good thing. Look for more HDR photographs to appear here again in the near future!
Images captured with my Nikon D700 and 24-70 2.8 with tripod. HDR conversion done in Nik HDR Efex Pro.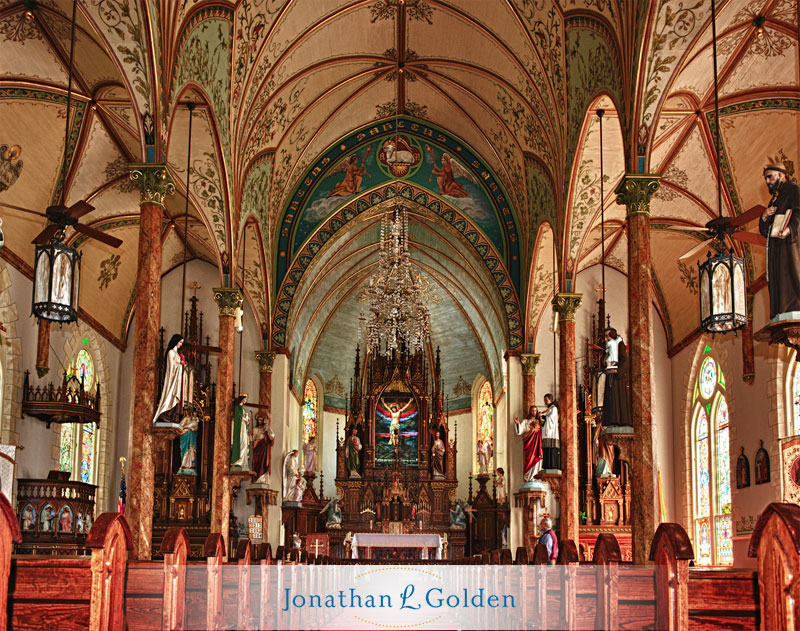 Curious what your neighbor's have to say about Jonathan?! For raving testimonials (click here)!

If you are interesting in having Jonathan L Golden visually tell your story, Contact him (click here) to book your session today!

For great links, photography specials and daily inspiration,  Follow me on Twitter