Houston Portrait and Wedding Photographer – Here Lizard Lizard
Jonathan
I have a lot of great photographs that I will be sharing in upcoming blog posts but I want to drop a quick note thanking all of the fantastic clients I have had the opportunity to work with as a photographer in Houston. The good Lord has continued to bless me and is the reason for my continued growth as a photographer. From the families who have taken me to the locations that emotionally connect them to the brides and grooms who have spent one of their most sacred days with me, Thank you.
This weekend, in addition to covering the photography for a fantastic concert at one of Houston's top churches, The Fort Bend Church I also ran up on this little guy (below) this weekend. To keep my blog family friendly, I will not mention what this lizard and his female companion were doing before he turned and showed off his big red chin (photos available upon request), but the adults can use their imagination. After I initially saw the two, I was able to run all the way upstairs, load a camera and pop on my 70-200 zoom lens before sprinting back outside. As someone who grew up enjoying lazy Sunday national geographic marathons, this sighting and capture is really exciting. Standing at the minimum focusing distance (as close as I could get) when I captured the photographs, this is as much detail as I could record. Right before the red air bubble inflates, this guy does 4 or 5 marine-style perfect-form push ups. I can not tell if it is a sign of aggression telling to get away or if he is just trying to let me know he has a big red chin. The detail in the photography is amazing. He is about 4 inches long. The structure you see in the upper left hand corner is the edge of my air conditioning compressor.
Check it out: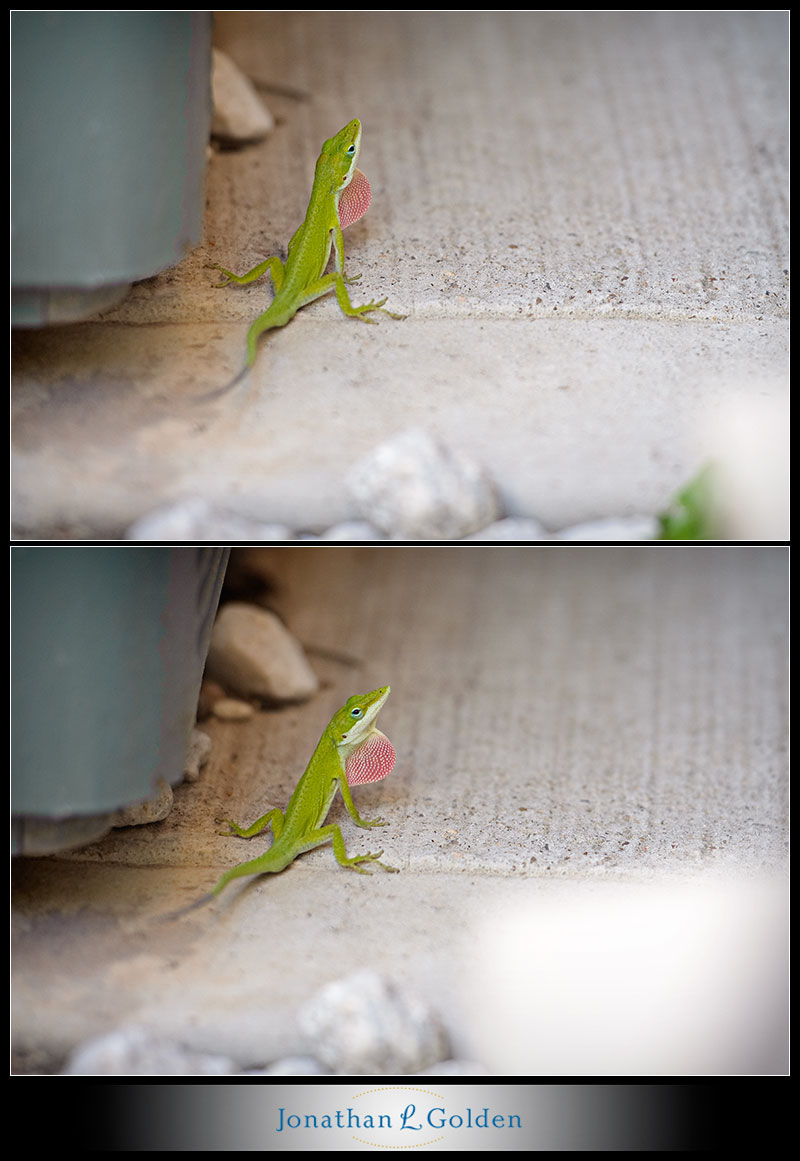 Be sure to check back later in the week when Courtney and Greg's wedding sneak peak will be up.
If you know the breed of this lizard, please let me know what it is. Drop me an email or please leave a comment below.
We'll chat again in a few days.
For raving testimonials (click here)!
If you are interested in having Jonathan L Golden visually tell your story, Contact him (click here) to book your session today!
For great links, photography specials and daily inspiration,  Follow me on Twitter