2010 Marketing Campaign – Houston Wedding & Portrait Photography
Jonathan
In 2009, I mainly focused on using Social Media sites like Facebook (jonathan.lgolden) and Twitter (@jlgolden) for marketing. While I was able to get great exposure, it is important for me to use some of the "battle tested" marketing techniques of the past as well. Inbound marketing techniques (blogs & social media) are great but I see no reason to shun traditional (outbound) marketing.
Bob Bates' was kind enough to give me permission to use his beautiful daughter Sophie on my flyer. I plan to battle the elements and go door to door getting the word out about Jonathan L Golden Photography!
I read a few photography blogs religiously, and right before Christmas, Tony Hoffer had a contest where he gave away a free photo shoot. His readers had to send in stories explaining why they should get the free shoot. I was shocked when Tony wrote that more than a few readers sent in stories mentioning that they had not had a portrait taken in 20 years! One of the best ways to document you and your families journey through this beautiful life is with annual (or bi-annual) portraits. Please allow Jonathan L Golden Photography to document your timeless memories.
Check out the new ad.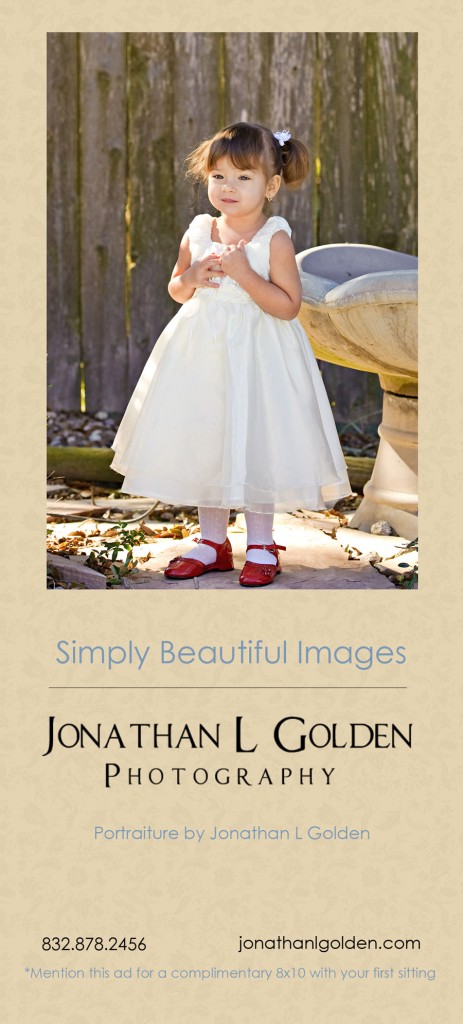 ***Whether your first time seeing the ad is here on my blog or you find it near your front door, mention it for a free 8x10 at your first sitting.***
Don't hesitate! Before you know it, another year will have gone by. Contact me to book your portrait session today!
For Photography Specials, Updates and Daily Inspiration Follow me on Twitter!